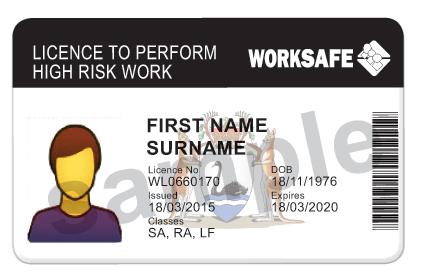 What is a High Risk Work License (HRWL)?
A High Risk Work License is a photographic license, issued to people who have been trained and assessed as competent to work in a class of work defined as high risk work.
The license is valid for 5 years You must be at least 18 years of age before you can be issued with a High Risk Work License.
The license will allow you to perform the specified high risk work class in any state or territory of Australia.
What Type of Work is considered as High Risk?
You require a High Risk Work license to perform:
Scaffolding – basic, intermediate and advanced
Rigging work – dogging; basic, intermediate and advanced rigging
Crane and hoist operation –

Tower
Self-erecting tower
Derrick
Portal boom
Bridge and gantry
Vehicle loading
Non-slewing mobile
Slewing
Materials hoist
Personnel and materials hoist
Vehicle mounted concrete placing boom

Forklift operation – forklift trucks; order-picking forklift trucks
Pressure equipment operation – basic, intermediate and advanced boiler operation; turbine operation; reciprocating steam engine operation
What are the Training and Assessment Requirements?
According to the National Standard for Licensing Persons Performing High Risk Work, training and assessment must be delivered under the supervision of or in partnership with a Registered Training Organisation (RTO).  This must consist of structured training, practical training and experience and an assessment of the trainee's competency through the use of nationally approved assessment instruments.
Once this is completed, you must apply for your High Risk Work License within sixty days of being issued with a Statement of Attainment from an RTO (or a Notice of Satisfactory Assessment issued by an assessor). Failure to do so may result in the licensing authority requiring you to be reassessed. Nara Training submit your licence on your behalf.
What is the Validity Period of a High Risk Work License?
Since High Risk Work Licenses are valid only for 5 years, it is important to keep your contact details up to date so that you can receive reminders when your license is due to expire. Once your license has expired you must not carry out high risk work until you have renewed your high risk work license.
After your license expires, you have 24 months to renew your license. If application for renewal is not made within the 24 months, the existing HRWL cannot be renewed and you will not be licensed. Your HRWL will be cancelled and you will have to be re-trained by an RTO before you can apply for a new high risk work license.
To renew your HRWL, you will need to have the following ready:
Your High Risk Work License number
Your email address and mobile phone number
Your debit or credit card to make a payment
Clear digital photo taken within the last 6 months (head and shoulders only)
   What are the Fees Associated with Obtaining a High Risk Work License?      
Renewal fees as of today and until 30 June 2020 are as follows:
New License: $100
Addition to class: $78.50
Renewal of License: $53
Replacement of Lost or Stolen License: $66
Nara Training & Assessing is a Registered Training Organisation (RTO 4518) that offered accredited work site training that is in accordance with national units of competency. We have purpose-built facilities in the Perth Metro area and the South West of WA as well as added ability to deliver on-site throughout Western Australia.
We offer the following High Risk courses:
Forklift Training
Scaffolding Training
Rigging Training 
Dogging Training
Elevated Work Platform (EWP) 
To view or enroll in our upcoming High Risk courses, please visit our course calendar.