If you are looking for a career in which you'll be exposed to critical thinking, team safety and the great outdoors, Traffic Management may be the industry for you! With Perth infrastructure set to boom, traffic management teams will be in high demand, and this could be your chance to start a career within a valuable industry.
However before you start your first day as a traffic controller, there are a few things which you need to do. Our trained and experienced staff here at NARA will help guide you through the necessary steps.
What is required?
In order to make your start within the industry, there are a few things that, by law, you require. In order to work:
You need to be at least 18 years of age
Have an Australian driver's license
Have a current and valid white card
A good understanding of written and spoken English
What is a white card?
In order to demonstrate to potential employers and training organizations that you have met the mandatory health and safety training required for construction, you must obtain a white card. Getting a white card is quick, easy and a must have for many tradespeople. As part of the NARA offering, our trained professionals can get you on your way to completing the course and gaining your white card. Contact NARA about getting a white card.
How do you become a traffic controller?
Once you have your white card, you can arrange to book in to one of our regularly hosted Main Roads approved courses. Held onsite at our head office in Forrestfield, we have a team of trained and experienced staff who will cover all the key units required to certify you as an accredited Traffic Controller.
In undertaking your Traffic Management and Traffic Control course, you will have completed the following units:
RIIWHS302D: Implement a traffic management plan
RIIWHS205D: Control traffic with a stop/slow bat
RIICOM201D: Communicate in the workplace
RIIWHS201D: Work safely and follow WHS policies and work procedures
Your time spent completing the course will be at our Forrestfield facilities and will span 3 days in duration. You will participate in both theoretical and practical based training, as well as relevant assessments.
What a typical day looks like
Traffic management is a flexible and rotating style of work, whereby each day will bring new and unique opportunities for you to demonstrate your knowledge and skillset. With works being performed throughout the day or night, you will have the flexibility to work hours which suit your lifestyle. Alongside you, will be a team of skilled professionals who work together to complete the key works which keep our road users travelling safely and efficiently.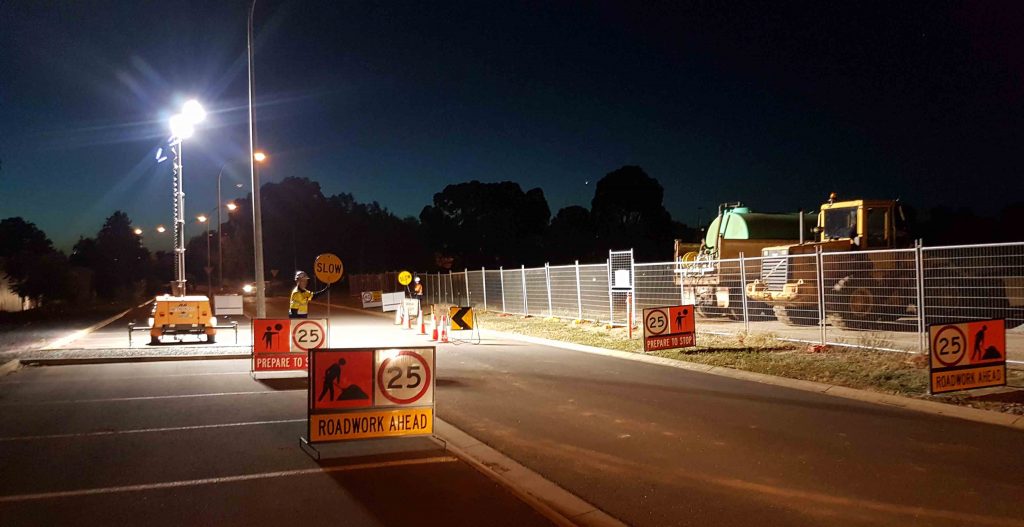 If a job working out in fresh air and with a skilled group of workers is something which appeals to you, traffic management may prove to be a great match!
Our next course runs on the 25th of June, enroll now!