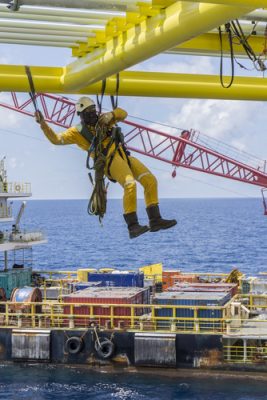 Working at heights courses are created to teach people how to minimise the risks of falls by providing a fall prevention device, work positioning system or a fall arrest system. There are many things that you must know and keep in mind regarding height safety and what a Working at heights ticket can provide for you. Choosing the right safety equipment, understanding fall distance, the use of lanyards and ensuring you have sufficient training are all incredibly important requirements to note before putting yourself or your team in situations where working at heights cannot be avoided.
Some tips when working at heights…
Choose the right safety equipment
The working at heights market has a large range of safety equipment. Before any safety equipment decisions are made the nature of the working at heights project needs to be assessed with questions such as: What is the type of work to be done? What type of building needs to be worked on? How many people are working at heights? There are also some essential items that should always be considered when entering this kind of work or training.
Although it may seem like a no brainer, the greater majority of falls from heights often result in head injuries, which can be avoided with the use of said hard hat. When you complete a Working at heights course, at our Perth or Bunbury NARA Training & Assessing facilities, you will have a thorough understanding of all of the necessary safety wear to ensure you are able to complete the Working at heights ticket safely and successfully.
Ensure your harness is appropriately fitted
A correctly sized and adjusted harness is essential when completing Working at heights training. Harnesses are not one size fits all and if incorrectly fitted could jeopardise your success in completing the Work at heights. Our friendly NARA Training & Assessing trainers will show you how to correctly fit your harness and ensure that you know how to be off to a safe start every time you work at heights.
2. Understand fall distance
You will find that Working at heights training Perth has many rules and regulations that are often 'common sense' for most people. In saying that, you would be surprised how many people are not as vigilant as they should be when completing their Working at heights training. Determining the length of the lanyard is integral to ensuring that the worker is protected at all times when working at heights. Each situation is different, so the working conditions need to be evaluated and taken into account each and every time to ensure complete protection.
3. Complete all of the training
Appropriate training to work at heights is essential in ensuring you and your team will be well equipped and ultimately safe when placed in situations where you have to work at heights. Not only is this training required by the law, but there is far too much room for error and confusion when it comes to people with insufficient training and practice Working at heights. NARA Training & Assessing has the appropriate facilities to provide people with successful Working at heights training Perth and Bunbury. Our trainers have a wealth of experience and understanding when it comes to maintaining all correct safety procedures and the correct protective equipment for the task. Call us on 9722 4260 and let us help you complete a Working at heights training course today!