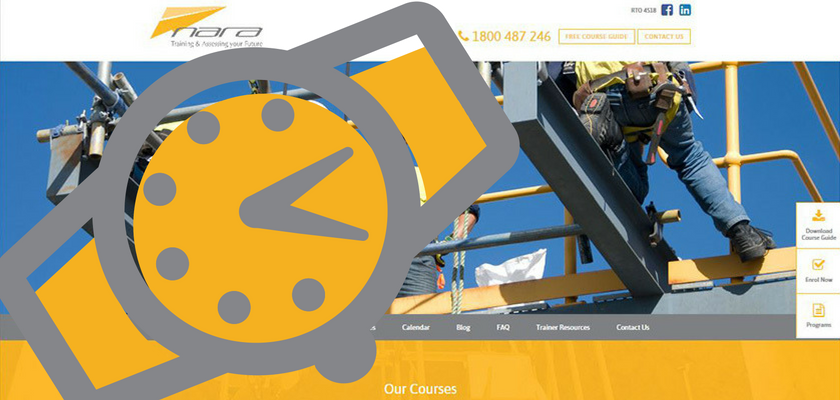 Prioritising the development of a responsive designed website in 2016 followed close examination of visitor feedback and an increase in access via mobile devices. We are fully aware that website visitors expect smooth fast service and want to complete their booking online.
Navigation that responds better on mobile devices
The new navigation takes you and other visitors straight to the courses you are eager to read about and through the booking process seamlessly.
Latest design trends
Our web developers have utilised the latest web design trends with Advanced Custom Fields making content heavy sections easier to manage to ensure information will be quicker for staff to update and ensure you have the latest information.
Quicker for customers to book courses online
As a Registered Training Organisation (RTO) using VETtrak student management software, the website now has an integrated enrolment system for the simplicity of online bookings.The enrolment system manages the number of vacancies and notifies you when courses are full.
Payments will be processed automatically through the enrolment system.
Easier access to courses
The hero of the new home page is the course list. This theme follows through to the subpages where the course list is placed in a handy position on the side panel.
Laying a solid foundation and consideration for the site structure was high priority at the planning stage. Our research revealed to us that the two main reasons for visitors to the Nara site were either to go straight to the course they are ready to book, or peruse the calendar for dates.
Course calendar function
A new mobile responsive course calendar embedded directly from the enrolment system allows the course specific dates, vacancies, locations and costs to be seen with a bit more information before allowing you to quickly link through to registrations.
Uncluttered and polished
Significant importance was a site that looked polished and uncluttered. Don't you agree that this new website is easier on the eye and more streamline to move around? Please let us know your thoughts on our Facebook page …